Reunited Under the Electric Sky: A Journey Through EDC Las Vegas 2021
The global tragedy of COVID-19 changed the world in a way most of us never thought possible. In just a few months, the pandemic tore apart what many of us took for granted: health, time with loved ones, social interaction, and travel. For our community, that of course included the annual pilgrimage of hundreds of thousands of Headliners to the neon playground Under the Electric Sky at EDC Las Vegas. With dates twice moved when it was not yet safe for that reunion to happen, 17 months in the making, our community reconvened this past weekend for EDC Las Vegas with a unique aura in the air from a time longer than ever before spent waiting for such a moment.
Nevertheless, EDCLV did not disappoint, offering seemingly endless worlds within the speedway grounds, and just outside of it at Camp EDC. With a larger span than ever of its stages, more interactive art and hidden areas, and a plethora of unexpected surprises, EDC's highlight reel was expansive. Take a journey with us through the best of EDC 2021.
cosmicMEADOW: The Inaugural Communion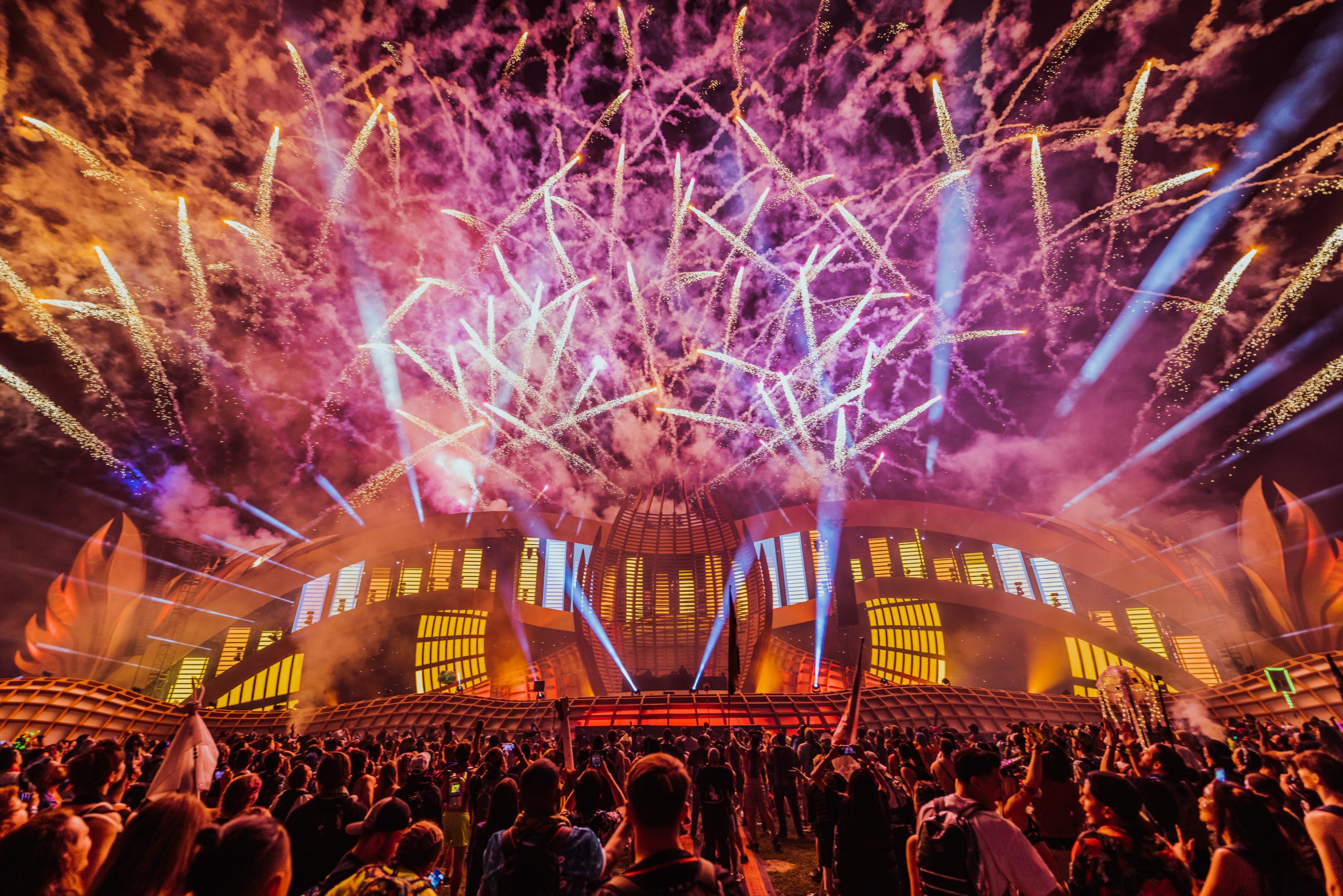 Our opening ceremonies at Cosmic Meadow returned for the Headliners eager for that head-start into the festival. House grooves took us through the first couple hours and sunsets each day with sets from John Summit, SIDEPIECE, Blossom, and Z-Trip, plus two choice back-to-backs of Solardo B2B Vintage Culture, and Diplo B2B Lee Foss. Hosted by HARD, the stage offered a wide variety of sets from artists such as Said The Sky, Flosstradamus, AC Slater, Dabin, TOKiMONSTA, Zedd, a surprise appearance from Lil Nas X during Diplo's Day 2 performance, and many more. cosmicMEADOW served as a mecca for Headliners during this very special edition of EDC, providing a sprawling field for rave families to reunite within.
kineticFIELD: A Place for Dreamers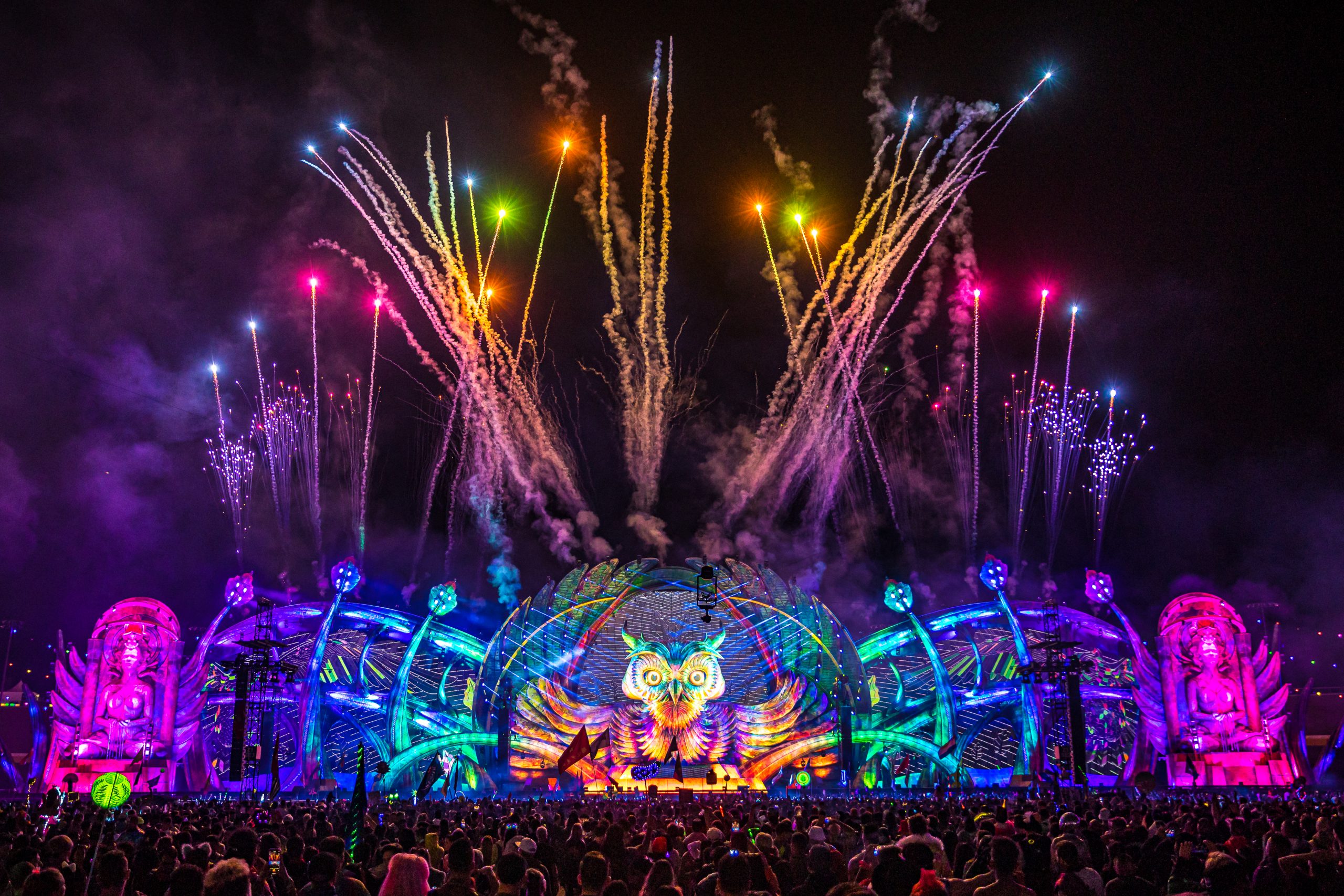 kineticFIELD has long been considered the place where Headliners come together to experience all the joy and happiness EDC has to offer. However, this year felt different, with a renewed air of purpose surrounding the stage, cutting through the nostalgia and longing we all felt throughout the pandemic. Under the watchful gaze of the Insomniac Owl Guardians, ravers from all walks of life reunited once more beneath the Electric Sky to experience a state of kineticZEN, aided by our meditating goddesses watching over from either side of the stage. Set highlights throughout the weekend included the likes of Don Diablo, Seven Lions, Tiësto, DJ Snake (with a surprise visit from The Kid LAROI), Purple Disco Machine, and a staggering closing set by Slander B2B Said The Sky. We then bid farewell to our Headliners during the Closing Ceremony, looking forward to a bright new future for EDC 2022 and beyond.
circuitGROUNDS: Your Premier 360 Party Experience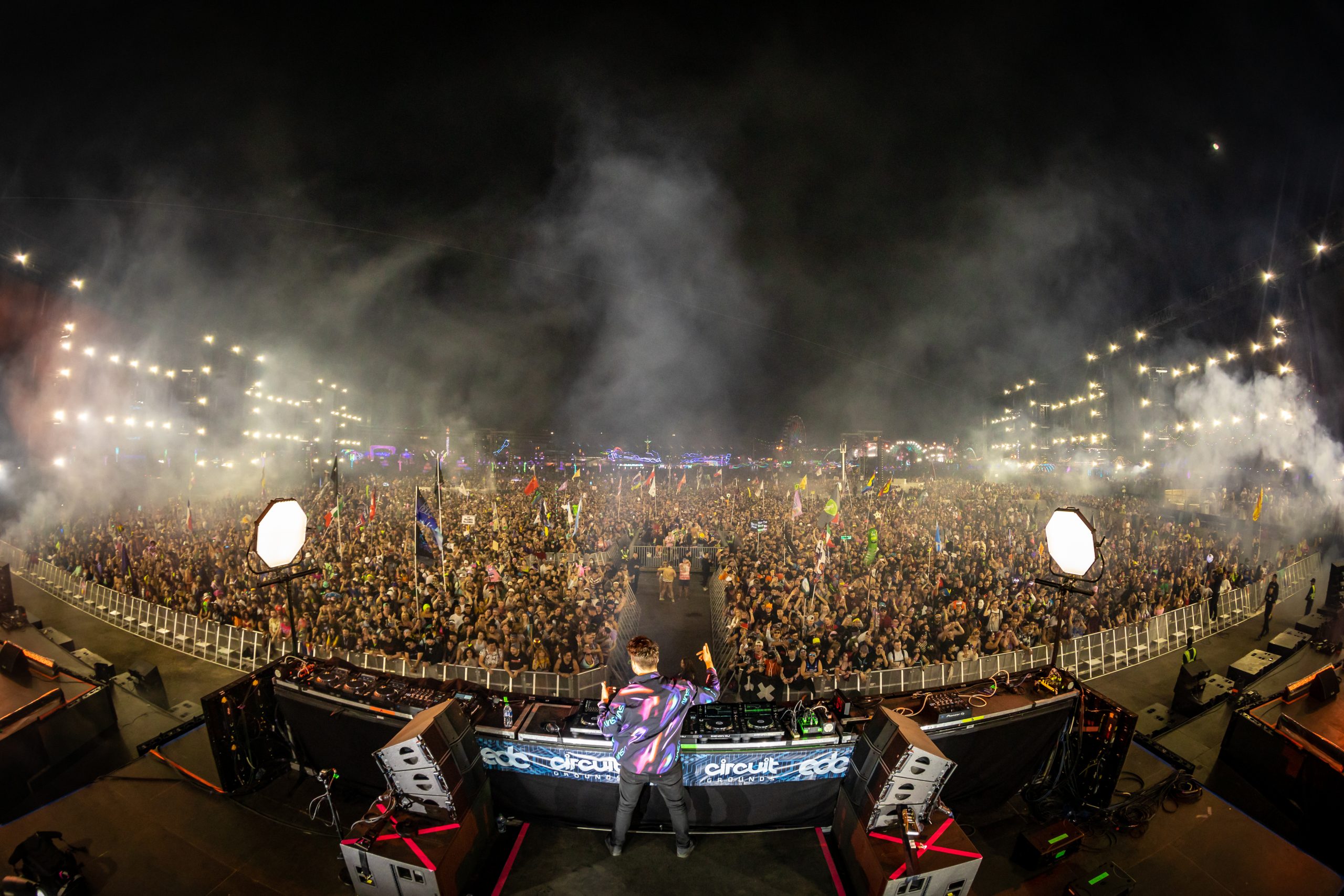 circuitGROUNDS is back and better than ever! With a state-of-the-art sound system, 31 LED screens in 360 featuring your favorite artist's graphics, and countless LED rods and spotlights delivering a top-notch lighting experience, it's truly no wonder that this unique stage is a fan favorite. This year, circuitGROUNDS was home to acts who offered premium audiovisual experiences. On Day 1, Claptone kept it classy with his driving house grooves, while Alison Wonderland took us to church with her signature hype bass vibe. Benny Benassi and Martin Garrix tore it up on Day 2, while deadmau5 hit us with some crisp tech overtones. Lane 8 brought the feels on Day 3, followed by a smashing performance from Eric Prydz, supernatural bass vibes courtesy of Rezz, and a fiery closing set from none other than Borgore.
neonGARDEN: Four on the Floor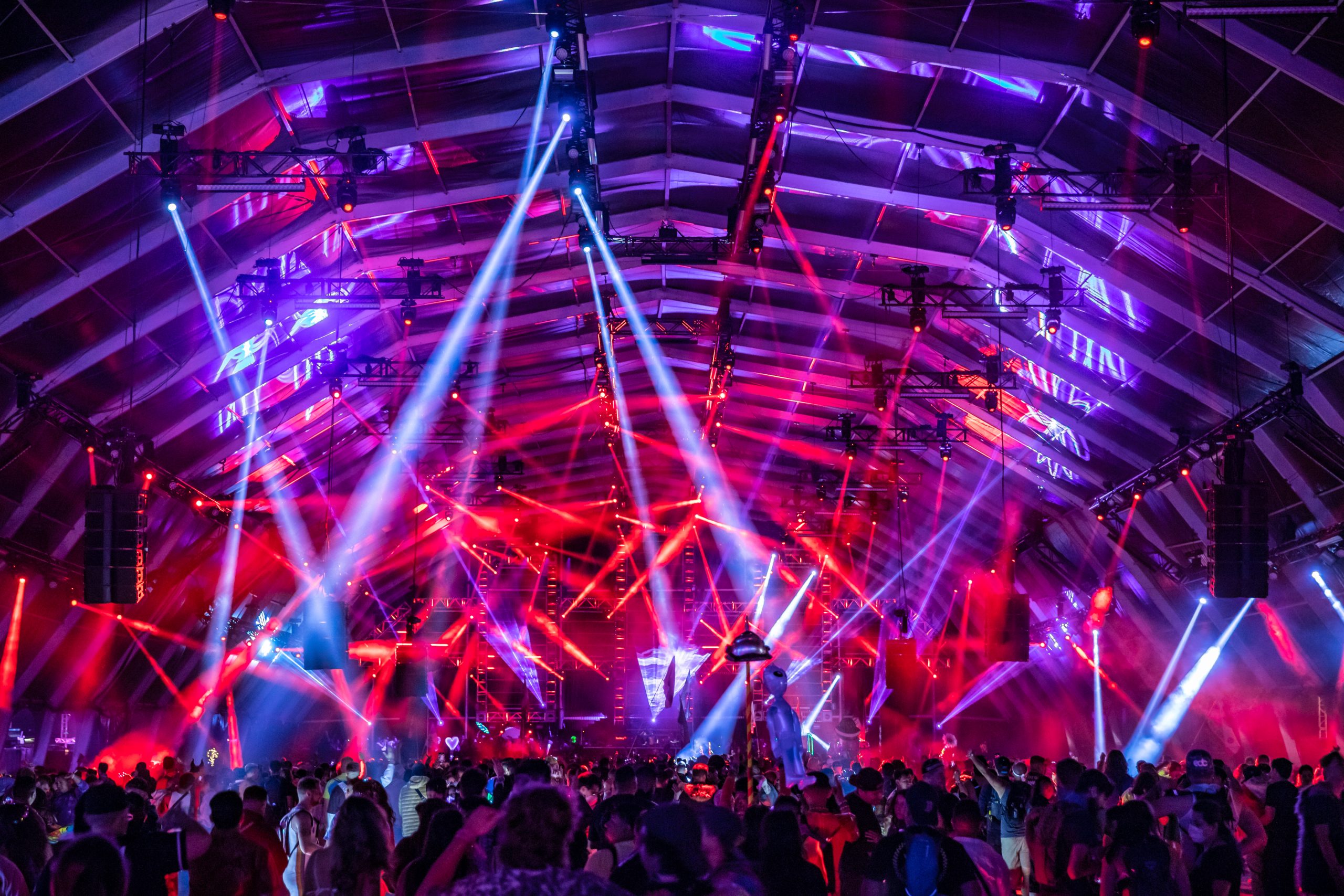 Hosted by Factory 93, neonGARDEN is where you'll find all manner of creatures of the night, those who prefer to exist in the space between the pulsing of the lights. Our techno and house paradise is structured as one big rave tunnel, with the entire complex surrounding the stage essentially forming one giant disco ball, with spots and strobes bouncing off of every surface. Solid and complimentary colors form the basis of the lighting from the stage, while rotating spotlights keep in perfect time with the 4/4 beats. In addition, three rows of delay stacks line the tunnel to make sure you don't miss a single beat. neonGARDEN kept it deep and dirty throughout the weekend with names like Michael Bibi and The Martinez Brothers, Eli Brown and Charlotte de Witte, and a killer Day 3 lineup featuring ARTBAT, Black Coffee, Nina Kraviz, Dubfire B3B Nicole Moudaber B3B Paco Osuna, with a jubilant closing set by Patrick Topping.
bassPOD: Where the Wild Things Are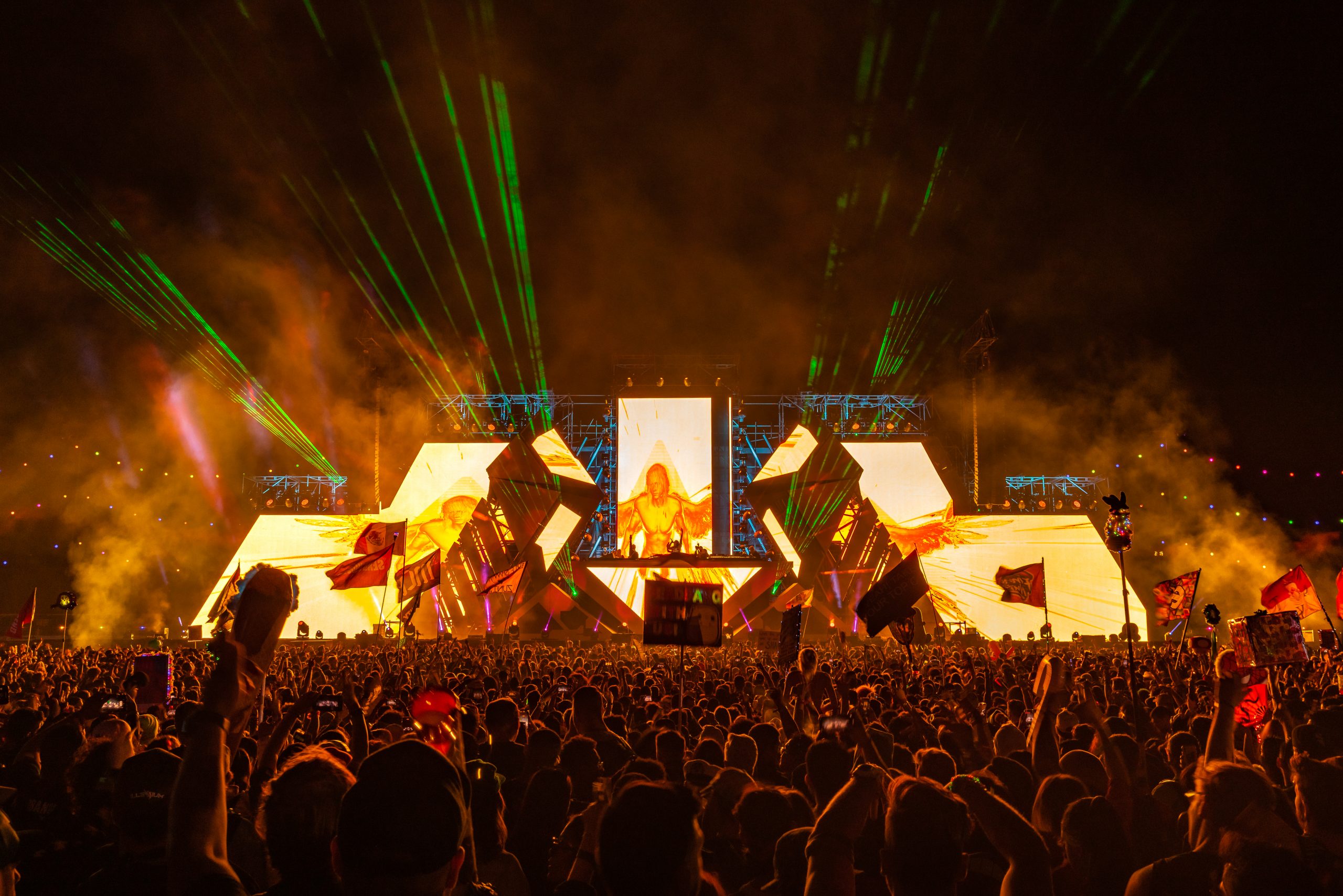 Bass lovers of all kinds come together at bassPOD to experience all the headbanging glory this stage has to offer. Hosted by Bassrush, this small but mighty setup packs a serious punch, with a massive crowd and an even more massive sound system delivering waves of bass through the outer reaches of the stage perimeter. Designed with futuristic turrets surrounding the area, this space provides an interactive arena to bounce to face-melting bangers with your best buds. Weekend highlights included heavy hitters such as Sullivan King, Kayzo B2B Knife Party, SVDDEN DEATH presents VOYD, Excision (Detox Set), Subtronics, and Modestep.
wasteLAND: Annihilation Complete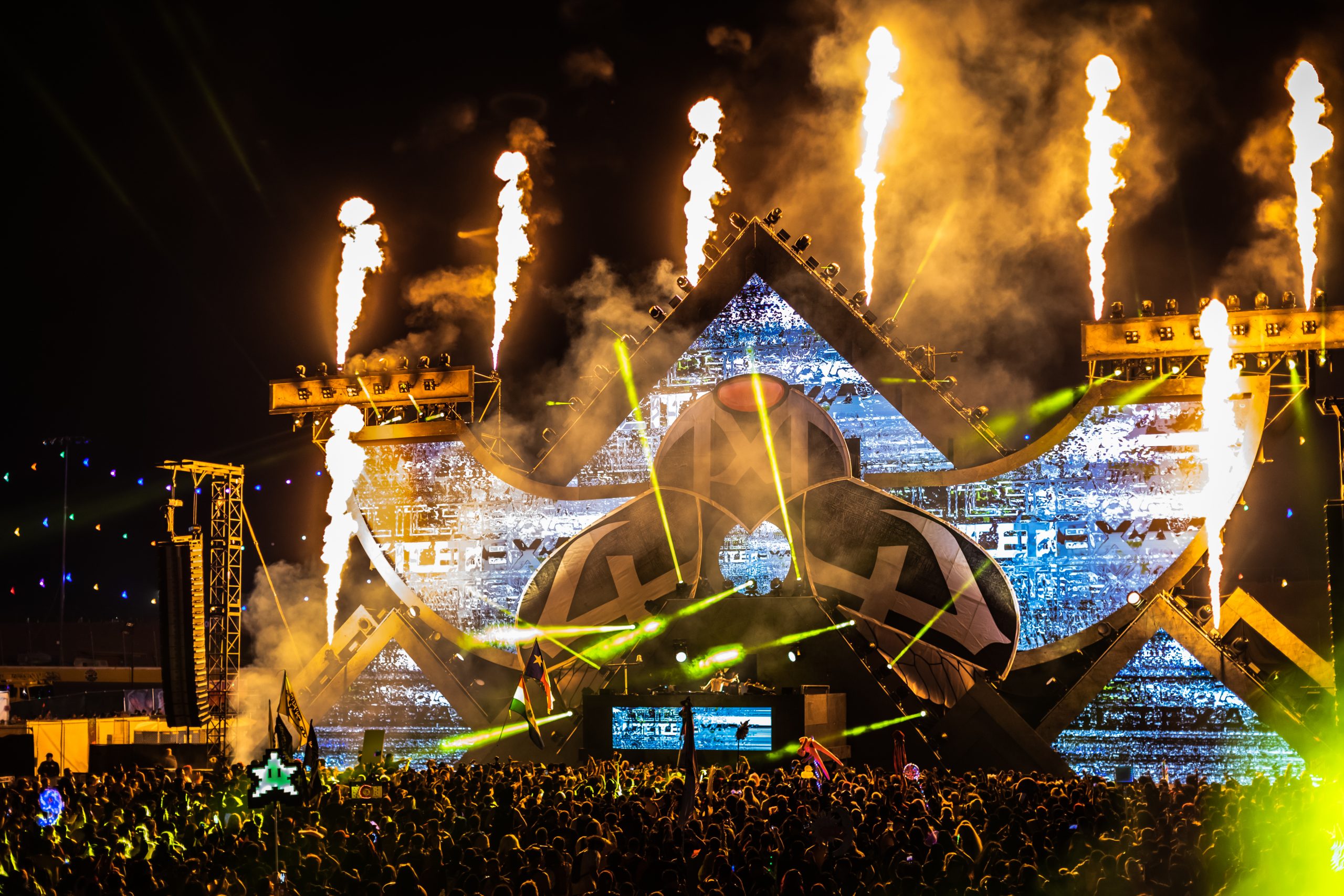 Positioned between bassPOD and kineticFIELD is our hardstyle haven wasteLAND, hosted by Basscon. With its industrial, post-apocalyptic feel, wasteLAND is the perfect asphalt playground for all the hardcore shufflers to romp in. If it's elevated BPM, hammering kicks, and bright leads you're looking for, this is where you'll want to be! The atmosphere truly plays the part, with shipping containers adorned with graffiti lining the outer boundary of the stage. wasteLAND featured favorites such as The Prophet and Mad Dog, with Gammer bringing it to a head on Day 2 followed later by a wild closer by Lil Texas. On Day 3, legends Da Tweekaz and Rob GEE took us for the ride of a lifetime.
quantumVALLEY: The Metaphysical Reckoning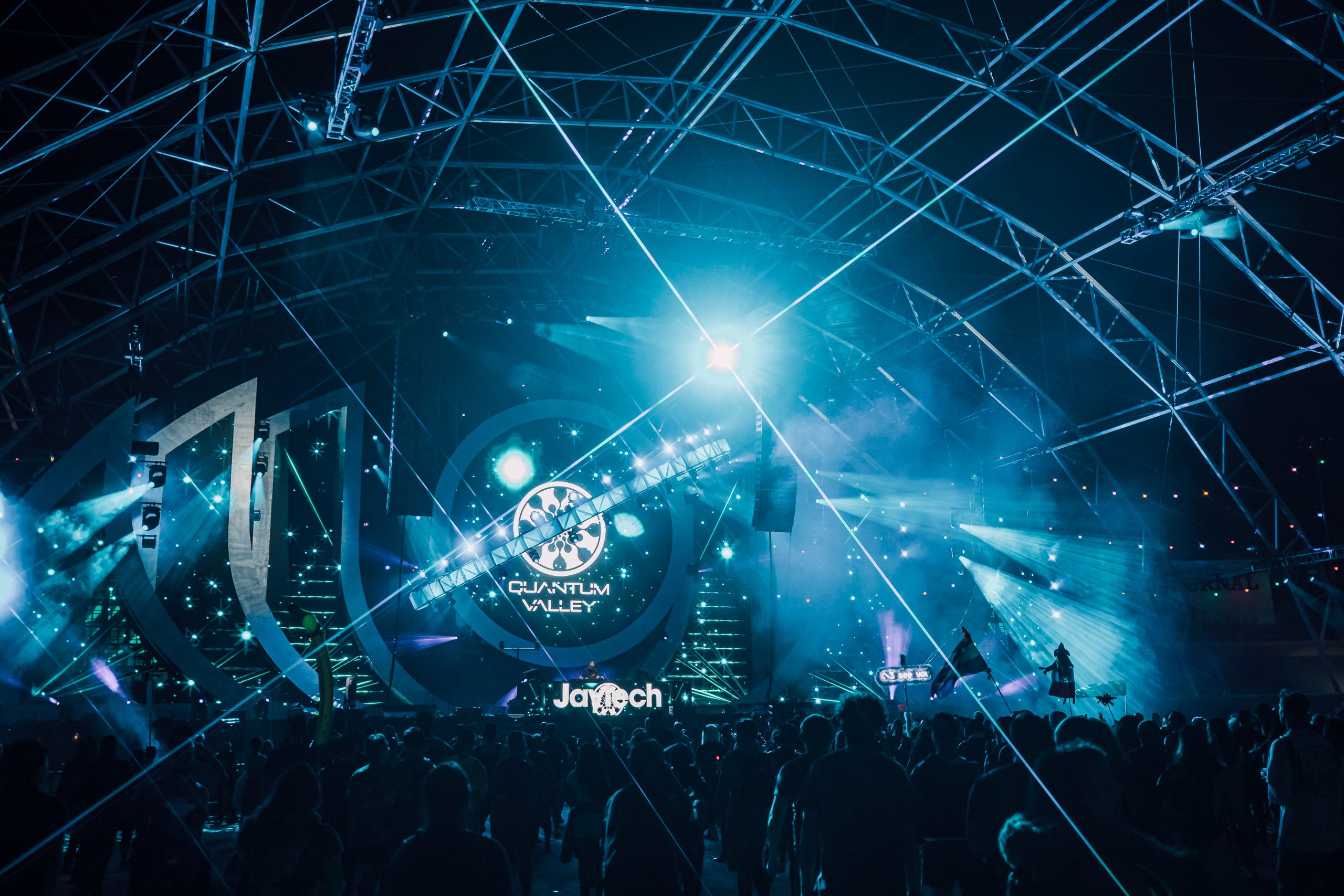 quantumVALLEY, presented by Dreamstate, introduced a whole new stage design this year, reminding us that we are only one world among a complex universe containing a myriad of realms that we have yet to discover. This stage covered the entirety of the trance music spectrum, from ethereal resonance to pulsing psychedelic rhythms. For this special year, we invited acts such as HALIENE (Live), Markus Schulz, Grum, Ferry Corsten, ALPHA 9, and Infected Mushroom.
stereoBLOOM: The Meaning of Flower Power
Located off of Daisy Lane is a stage that goes its hardest from beginning to end. Curated by Insomniac Records, stereoBLOOM offers an intimate experience with a perfect mix of nature and future technology. The curved setup of the stage blooms forth into a magical sonic experience, while the LED screen leaves coming off of the circular main stage envelope the crowd in an aura of flowery bliss. All weekend the stage could be heard bumping serious beats ranging from tech house to bass music and beyond. Highlights consist of some of Insomniac Records' favorites, including OMNOM, J. Worra, Blossom, Dr. Fresch, John Summit, and Dombresky B2B Noizu.
Corona Electric Beach: Let the Waves Wash Over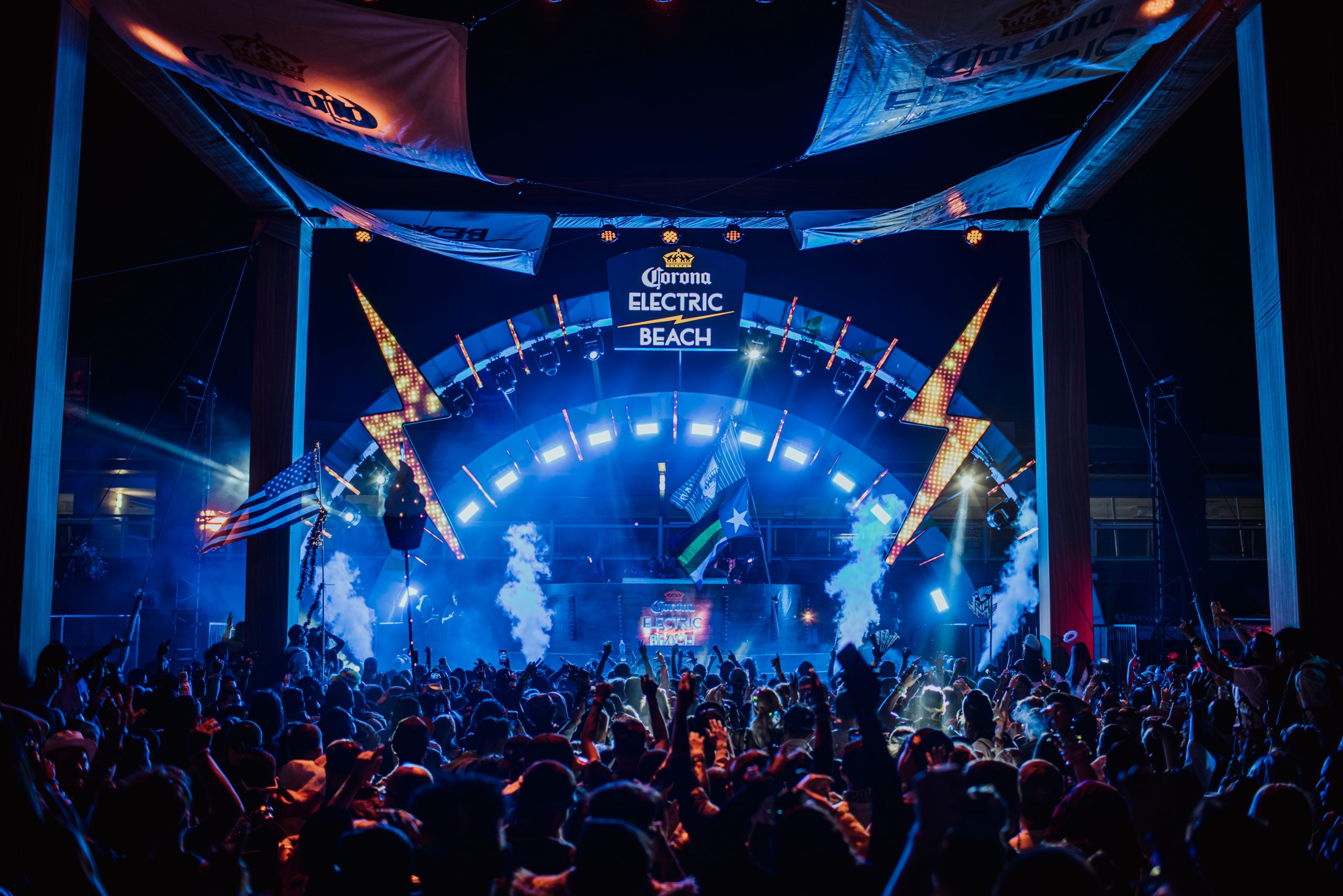 Our friends at Corona once again brought the bumping beats and sand between our feet. Relocated behind Cosmic Meadow, the Electric Beach offered a space to cool down and sway along to the music in a cozy, welcoming setting reminiscent of a beach party. Headliners grooved all weekend as the waves of bass washed over them, with intimate performances from the likes of HoneyLuv, ARMNHMR, Born Dirty, JOYRYDE, Nostalgix, Slushii, and many more.
nomadsLAND: Steampunk Desert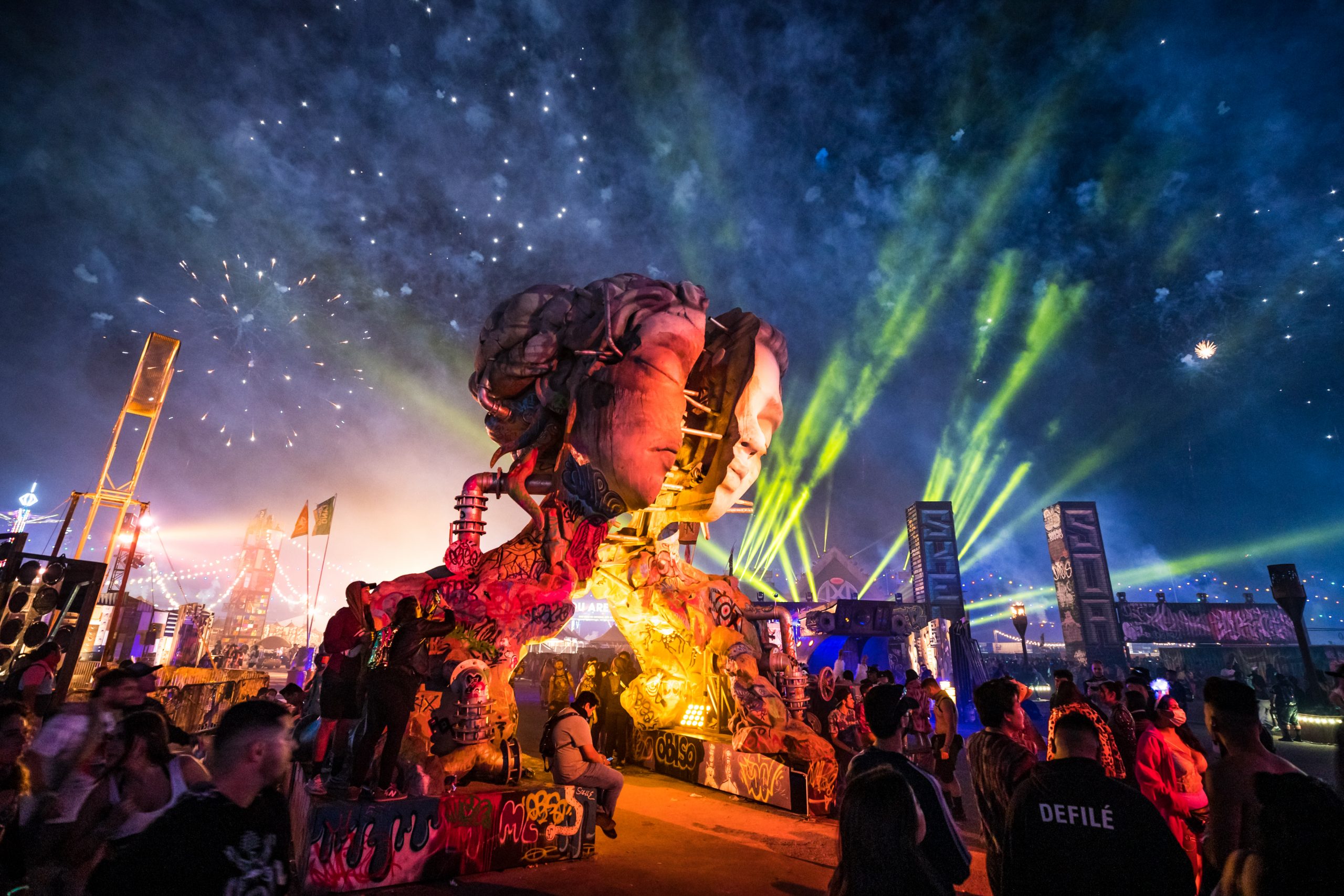 Located next to the toxic dystopian inferno wasteLAND, nomadsLAND features a plethora of industrial art, found object sculptures, and other future apocalyptic attractions. As you walk beneath the Chasm art installation, taking the shape of the severed bust of a forlorn-looking woman, you enter a world unlike any other. The area presents itself as a desert punk sculpture garden, with photo ops galore and all manner of handcrafted figures made from recycled materials, reminding us that one person's trash is often another's treasure. With two dedicated bars, acrobats and performers fluttering about doing synchronized routines, an art car, the Double Decker, and Salvage City, this industrial park gone EDM is a must-see at EDC! When you are finished roaming around, exit out of the flatbed truck archway and head to kineticFIELD to see your next set!
One new attraction from the 2021 edition of EDC is the Salvage City Meat Circus: EDC's first-ever fine dining + performance experience! At this dystopian dinner party, you can dine in proper badlands style with your friends while getting a prime view of the Salvage City show. Experience a refined menu and signature handcrafted cocktails as you enjoy the show, and get a 360 birds-eye view of the festival from atop the building while watching the nomadic dancers atop the various structures throughout the area. More than worth the price, this is an immersive fine dining experience unlike any other. Inside the building, you'll find flowers made out of recycled milk containers, industrial-era paintings on the walls, distressed interior design, and mismatched lighting fixtures; this is the stuff we only dream about in post-apocalyptic fiction come to life for you to experience firsthand! Check out a few of the highlights from the menu below engineered by Chef Jeff Steelman, featuring vegetarian + vegan options in addition to standard fare:
Charred Carrot and Harissa Salad
Roasted Crab Mac
Chicken and Wild Mushroom Farce
Crispy Horseradish Potatoes
Truffled Hot Dogs
Fire-Braised Korean BBQ Short Ribs
Chilean Sea Bass with Miso Glaze and Caviar Salad
Fresh Berries
Grilled Angel Food Cake with Caramelized Honey Whipped Cream
Downtown EDC: Entertainment Hub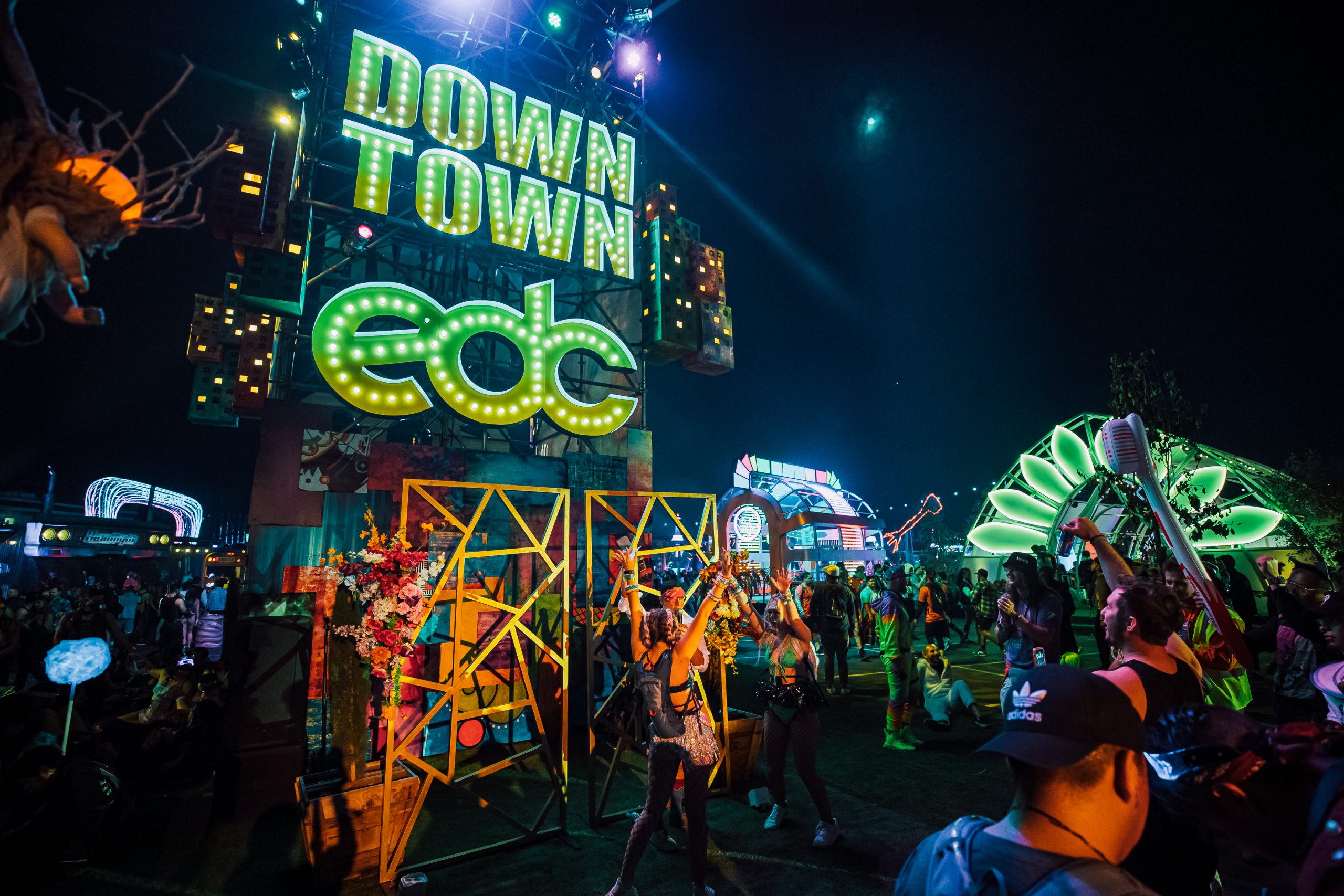 Downtown EDC continues to be the perfect place to stop if you are looking for a unique entertainment experience. Featuring several different worlds, each entirely their own, this area is a must-see if you are looking to take a break from the stages but want to keep the party going. Enter the Bajo Callado Silent Disco if you are looking for a slightly different party experience, or head to the Queen Bar for cocktails and drag shows. Check out the fire dancers at the Escape Open-Air Theater, sing along to your favorite hits at the Tokyo Karaoke Bar, or visit the Commitment Deck for a free Festie Bestie Wedding. If one thing is for sure, it's that there is something for everyone in Downtown EDC!
EDC Las Vegas 2021 Fireworks and Drone Show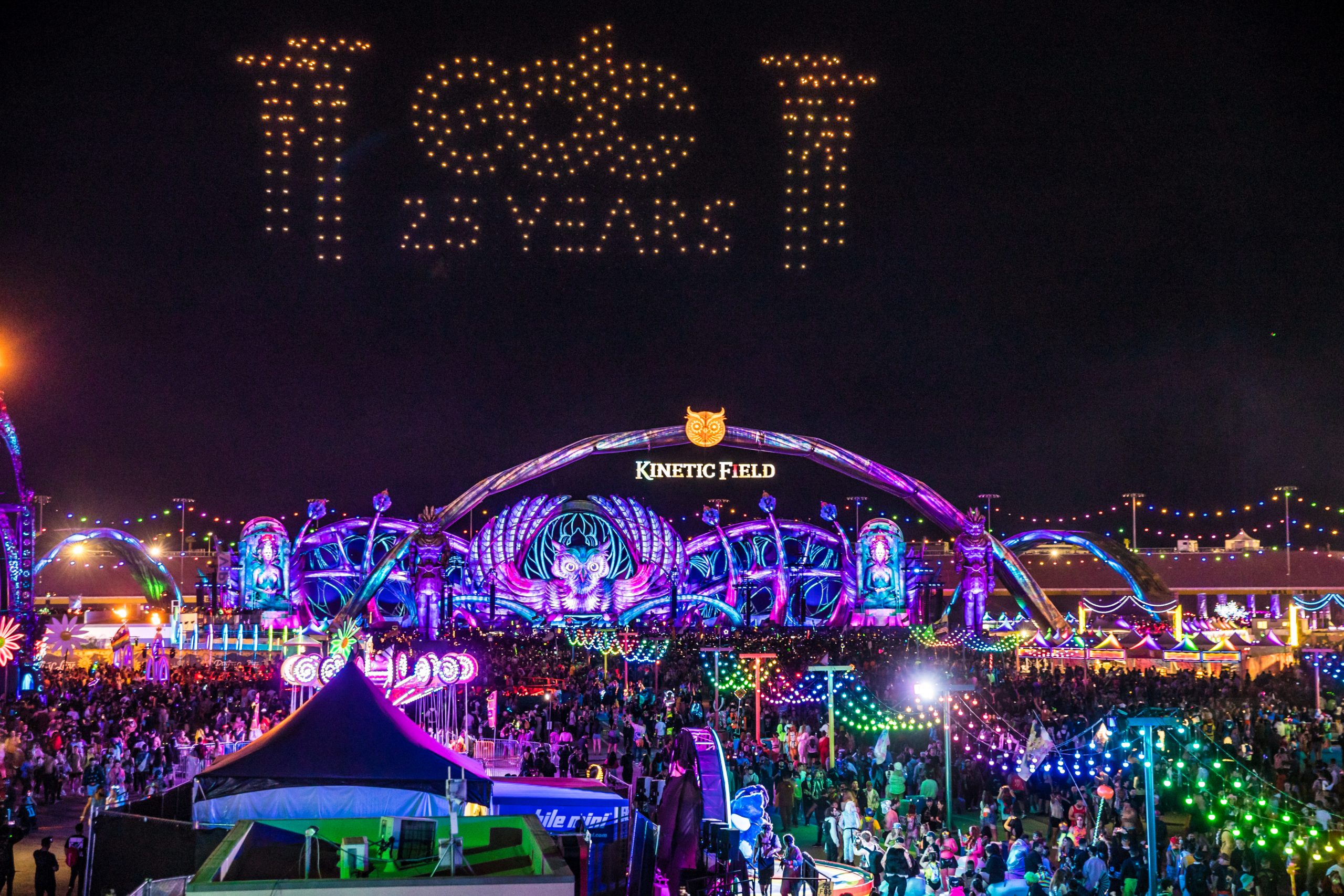 This EDC was a very special one for Insomniac and all of our Headliners that help make our festivals possible! Not only was this our first post-pandemic EDC, but it was also EDC's 25 Year Anniversary. To celebrate, we decided to do a little extra on top of our usual nightly fireworks display. Counting down to the fireworks each night was a drone show that lit up the sky in various formations, including our Insomniac Owl, two humans coming together to signify our reunion Under The Electric Sky, and more! This was truly a sight to see in conjunction with our 25 Year fireworks display, and seemed like the perfect way to announce that we are back with a bang.
Pixel Forest and Coinbase NFT Gallery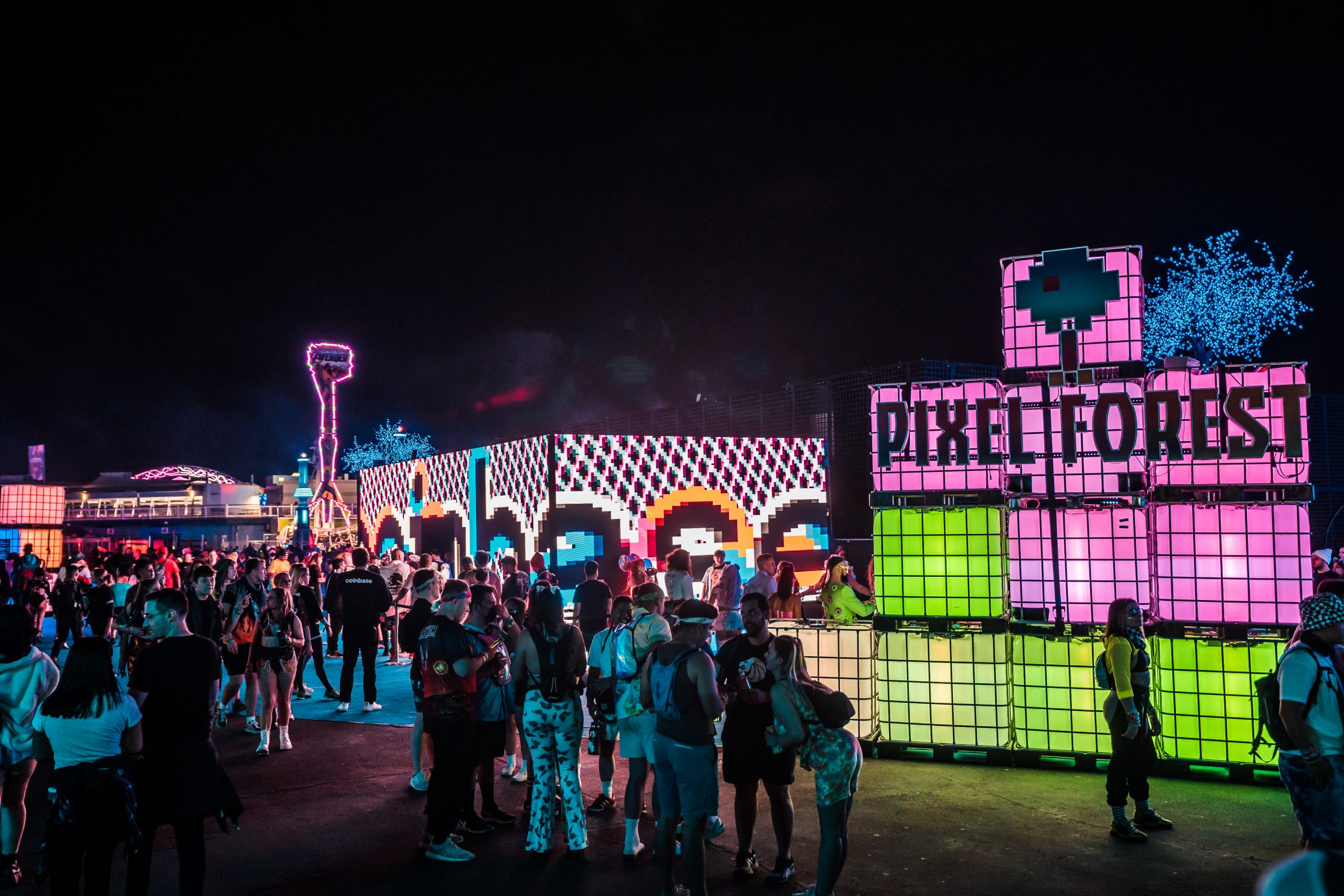 Pixel Forest is one of many feats of engineering that exist throughout EDC. The tunnel through the structure is covered wall to wall in electric LED vines with bass bumping all throughout the space. Everywhere you look, you'll find people vibing out, taking selfies, and just generally having a good time. Pixel Forest, with its rave cave aesthetic, is a place where nature-inspired architecture meets technology. Outside of the tunnel between the forest compound and neonGARDEN is an area filled with neon trees and hammocks for Headliners to hang around and listen to the music from.
Another new fixture from this year is the Coinbase NFT Gallery. Offering free WiFi, the Coinbase NFT gallery is the future of blockchain art galleries. With a more linear feel to it than a regular art gallery, Coinbase is designed like a maze, but the walls are lined with screens playing unique EDC NFTs for auction or claiming. Notable pieces include EDC 25 Years: Under The Electric Sky, the Performer Highlight Reel, kineticFIELD AV NFT, animated EDC 2015 poster, Shuffling Eye Guy, and the Headliner Portrait Reel.
Allegiant Rave Terminal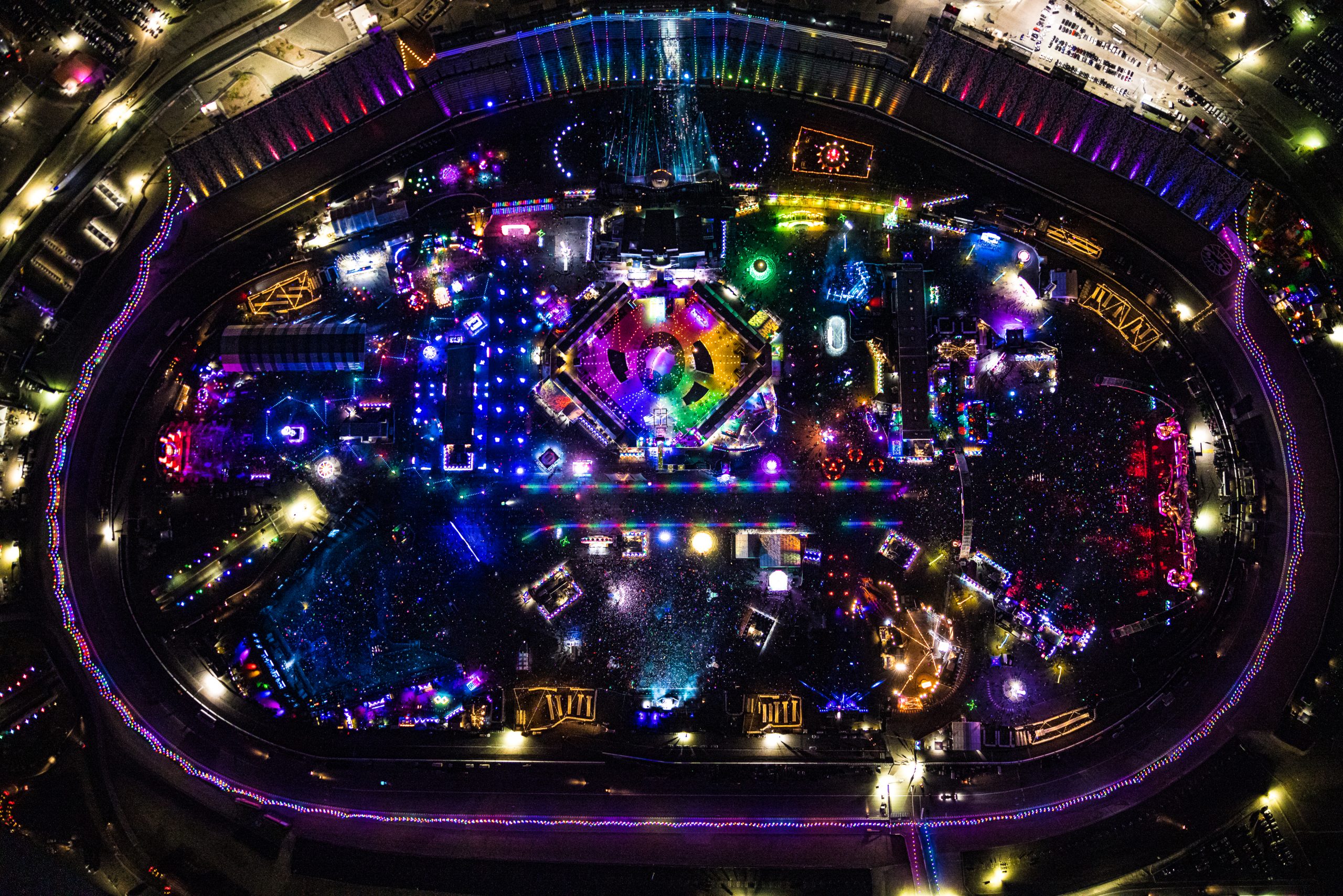 The rave doesn't have to stop just because you want to chill for a bit! At the heart of EDC lies the Allegiant Rave Terminal, where you'll find a large area to sit while watching the Insomniac TV livestream of EDC. At each corner there are various food joints, amenities such as the Beauty Bar, and plenty of space to roam around. On the outer edges Headliners could find all the EDC essentials: info booths, merch tents, free water refills, and more! Light-up tunnels guide you into the colorful center of EDC and make for a great meeting spot with friends.
Thank You for a Wonderful EDC Las Vegas 2021!
There is no denying that the pandemic was, and still is in many ways, a difficult time for everyone, but we are infinitely grateful to have been able to reunite with our Headliners this year Under The Electric Sky. We can't thank you enough for joining us this year, and we can't wait to see you again in May for 2022!
Follow EDC Las Vegas on Facebook | Twitter | Instagram
---
Share
---
Tags
---
You might also like