EDC Las Vegas 2022: A Look Inside Our Newest Additions
Yet another successful EDC Las Vegas has come and gone after our initial return last October. On May 20, 21, and 22, over half a million Headliners gathered once again under the Electric Sky at the Las Vegas Motor Speedway for a weekend of dancing and revelry in celebration of our universal love and appreciation for dance music. Though the weekend may have flown by, as we knew it would, all of the memories and connections we made continue to live on in our day to day lives. Instead of walking back through, we wanted to point out some things that are new to EDC that you might have missed in the whirlwind that was last weekend! We are already working hard on next year's gathering, and in case you missed the fun: tickets for 2023 are ON SALE NOW!
New Stage Designs
Out with the old, in with the new! A few of our favorite stages got a makeover this year at EDC, with brand new designs premiering at kineticFIELD, bassPOD, neonGARDEN, and wasteLAND. We also introduced a new stage, bionicJUNGLE, with an all-house music lineup to keep the groove going into the early hours.
kineticFIELD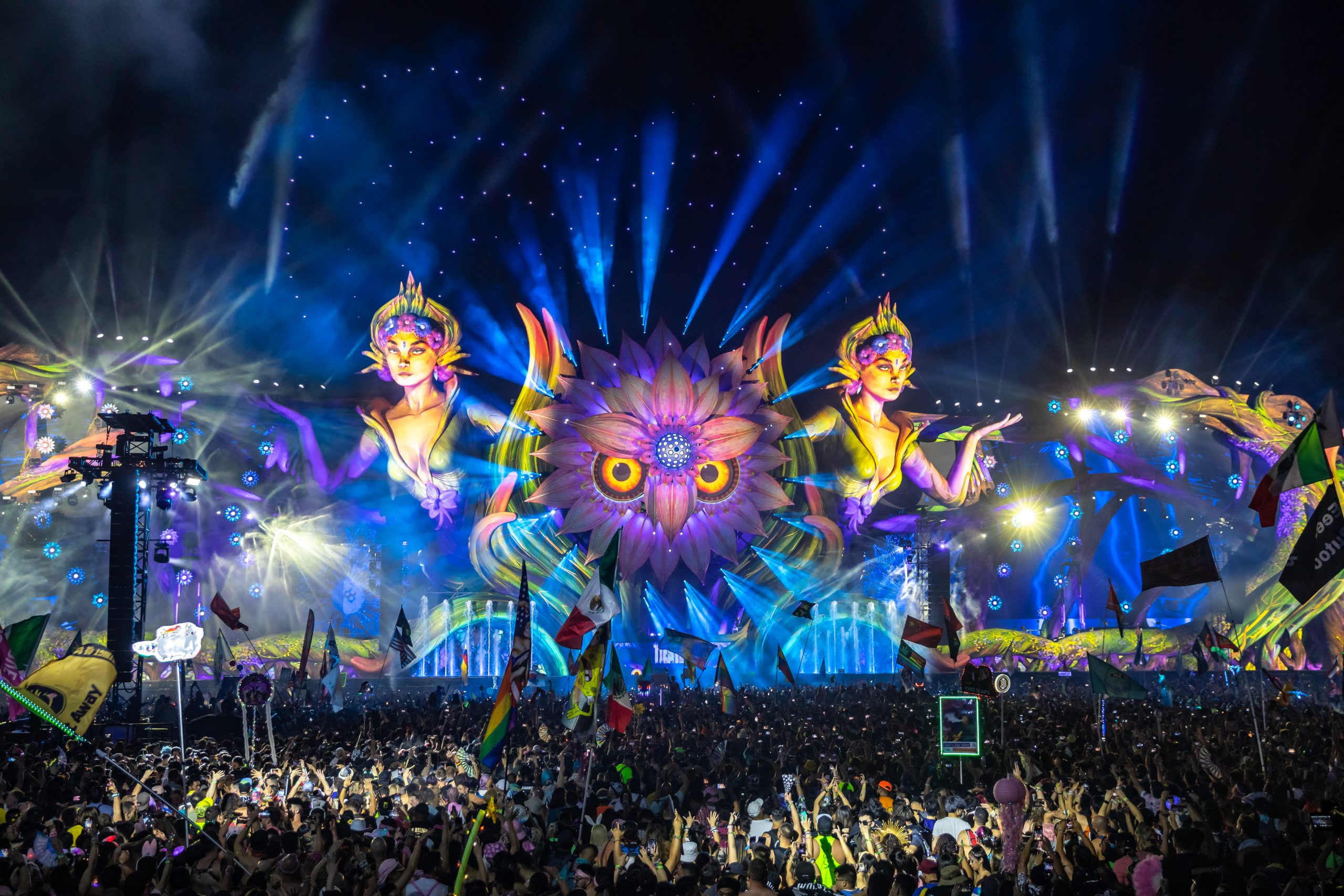 In the spirit of our theme of kineticBLOOM for 2022, we redesigned the main stage to reflect the manner in which energy flows through us from one person to the next. In the center of the stage lies the very heart of the kineticBLOOM theme, a beautiful flower guarded closely by two goddesses. As the night goes on and the atmosphere intensifies, the flower reveals itself to be none other than the Insomniac Owl Guardian, its yellow eyes intently gazing upon the crowd as they dance and sway. Stained glass-style screens jut out from the sides, comprising a platform on which to watch artists work their magic, but also acting as gargantuan mirrors to reflect lights and lasers back into the crowd. This year, kineticFIELD hosted artists such as Illenium, Tiësto, Porter Robinson, Deorro, and DJ Snake.
bassPOD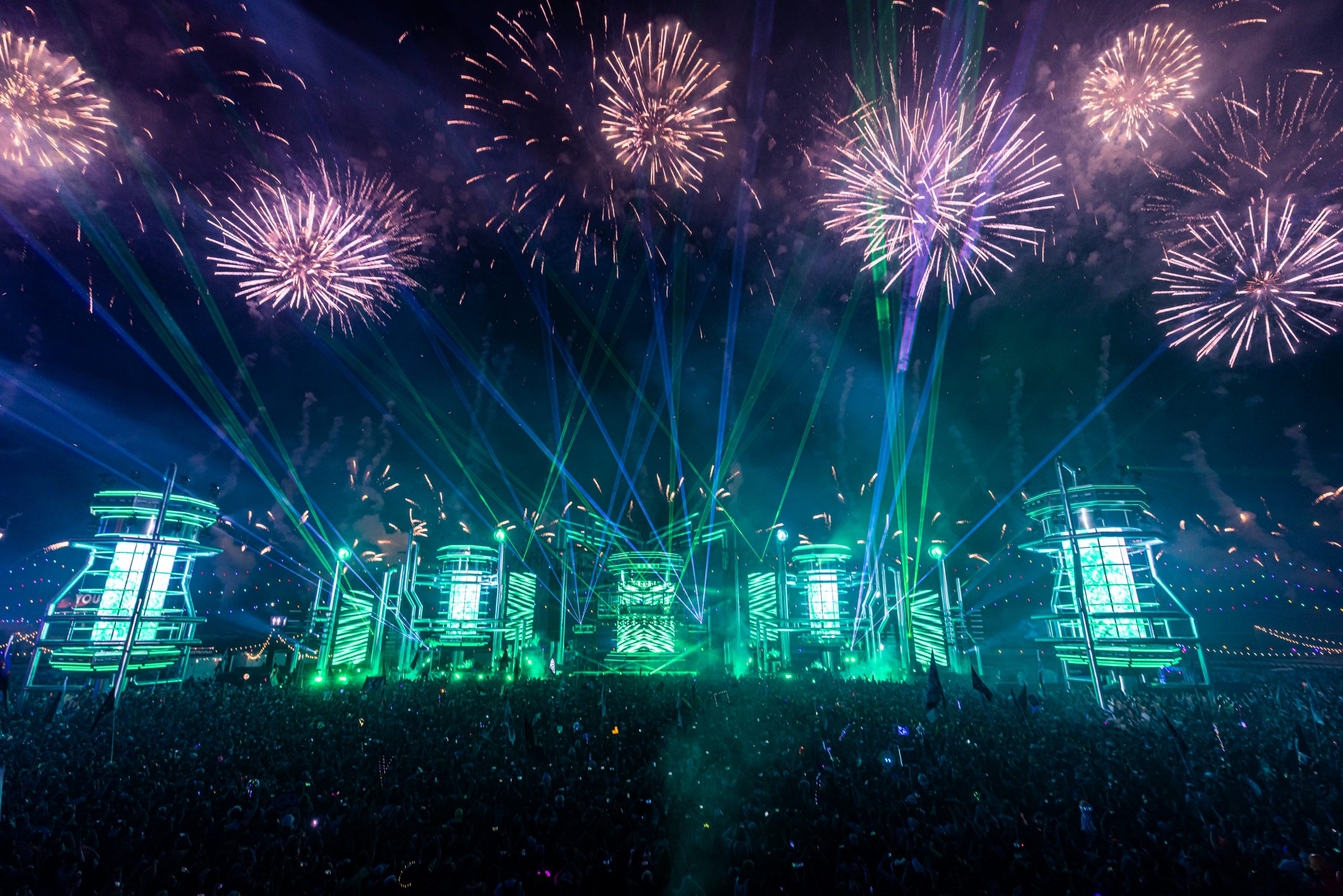 It's giving science experiment gone wrong… This year bassPOD received an upgrade from its former alien-dwelling-on-Mars look to full-blown mad scientist's lair. Five large towers in a half-moon around the stage give the effect of giant test tubes lined with lights and LED screens. The tubes flash and the contents ripple as artists command the crowd from a raised platform in the center of the stage. Headliners had the pleasure of being experimented on last weekend by the likes of Excision, G Jones, Kai Wachi, Rusko, and more. Though the stage itself was also an experiment, we believe we can safely say it was a hit.
neonGARDEN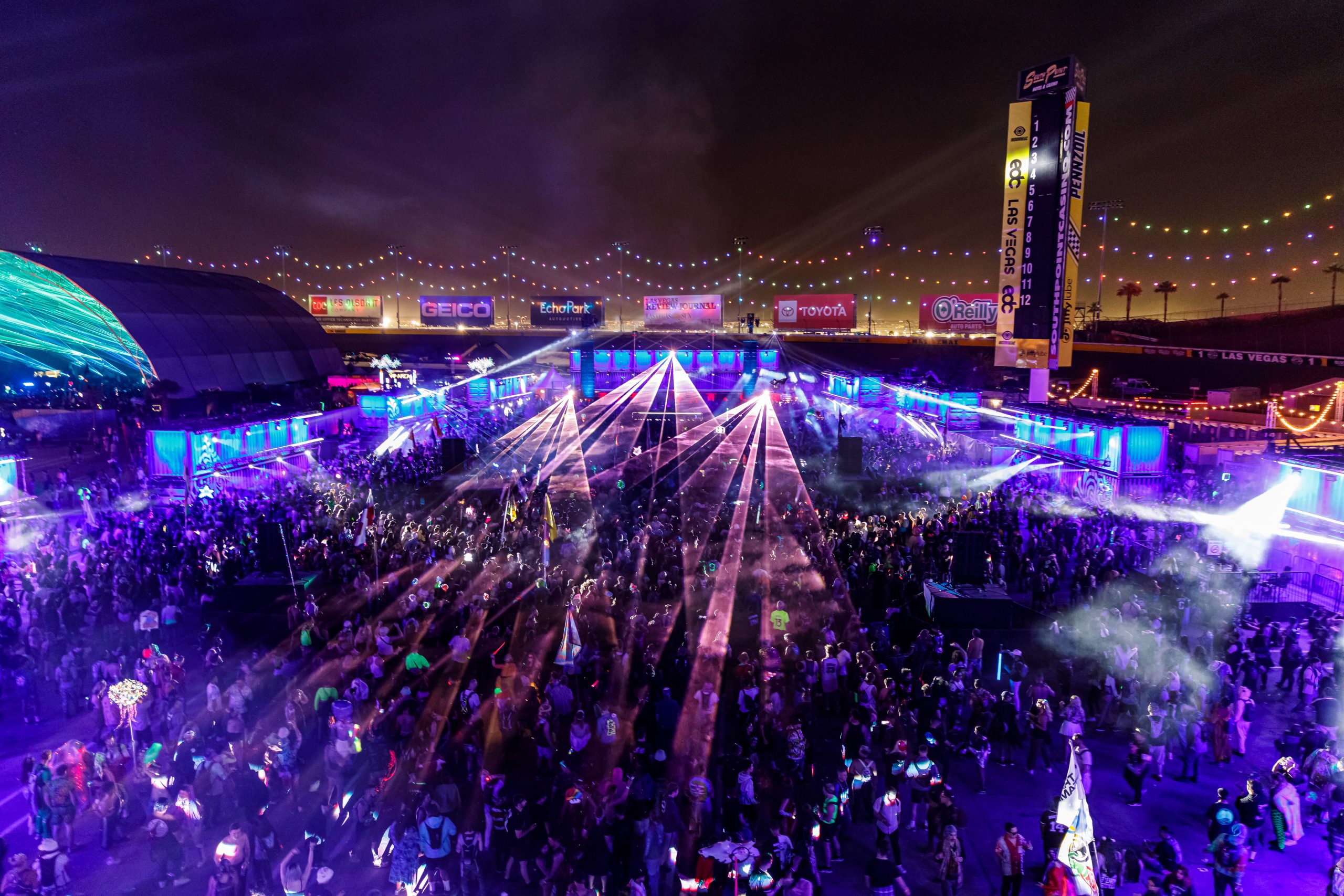 Different from the hangar-style tent debuted last year at EDC, this year we turned neonGARDEN into an open-air warehouse party surrounded on all sides by massive shipping containers adorned with graffiti. In compliance with the stage's genre theme of house and techno, the setting gave the vibe of a secret rave hidden within an urban jungle, only to be discovered by those who know the password. Legends such as Adam Beyer, Honey Dijon, I Hate Models, and Tale Of Us graced the stage over the weekend, bringing the best in underground music.
wasteLAND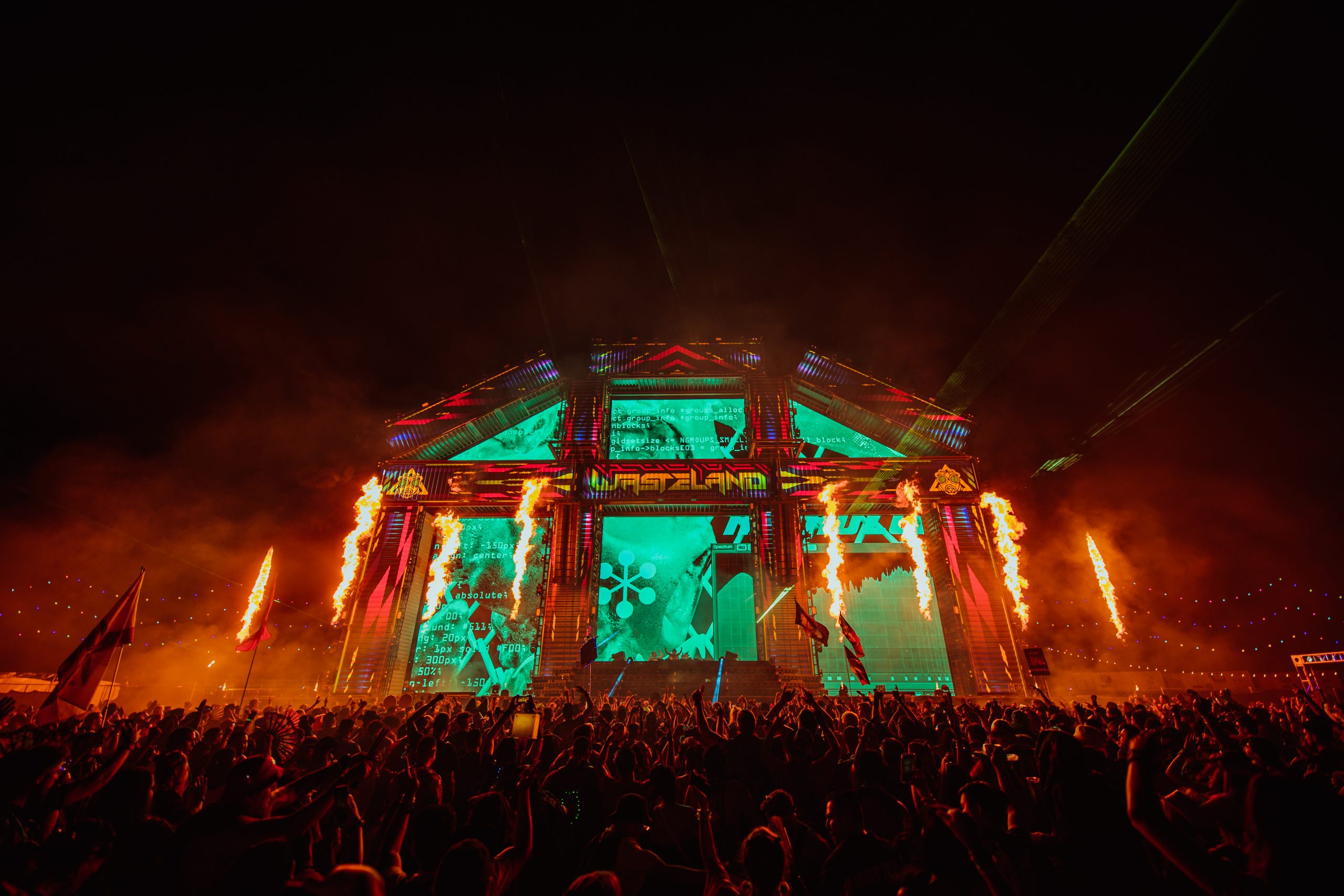 This year our signature hardstyle stage came back bigger and better than ever, leaning into its industrial roots and manifesting as a massive tower of graffitied shipping containers stacked atop one another. This absolute feat of modern engineering housed artists including Ben Nicky, Lady Faith, and Lil Texas, and of course provided plenty of shuffling room on the dance floor for all of our hardstyle and hardcore stans.
bionicJUNGLE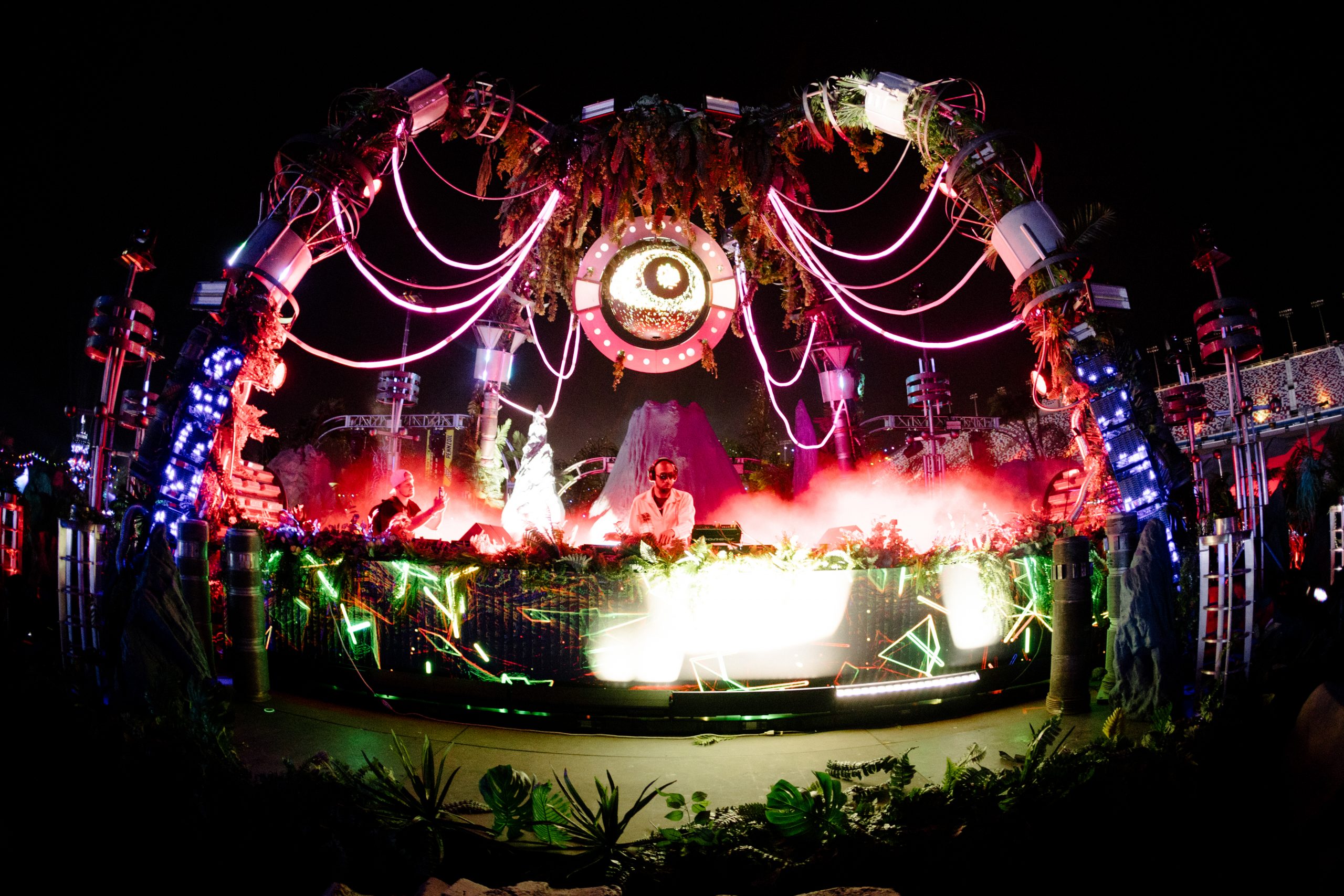 We couldn't miss an opportunity to bring you another new feature of EDC, which is why this was the year we unveiled the bionicJUNGLE stage! Small but mighty, this stage puts you right in the middle of the tropics, dancing on the beach and listening to house music. Entertainment over the weekend included house legends such as Felix Da Housecat, Carl Craig, and Gene Farris.
Life-Sized Arcade at Pixel Forest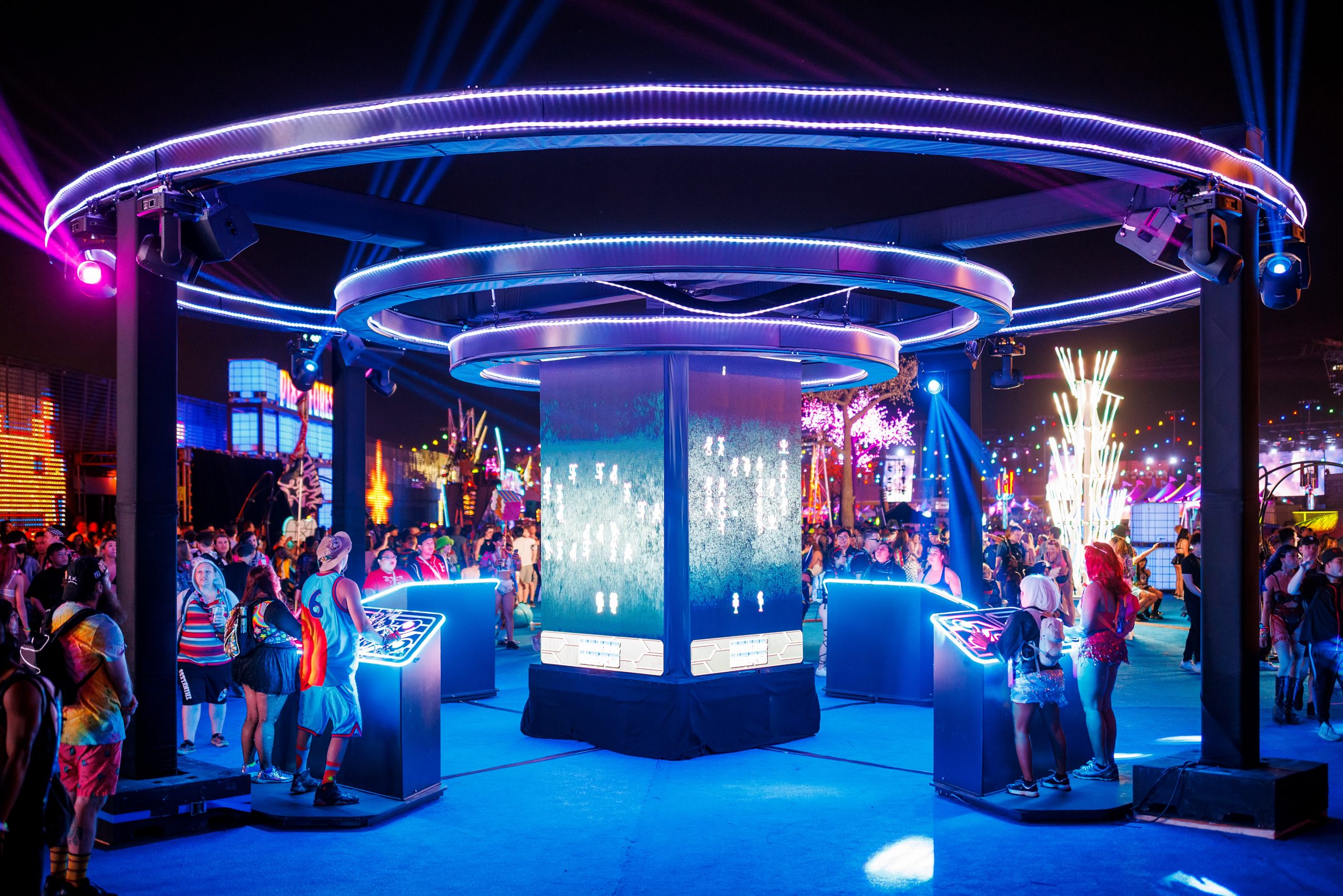 We kicked Pixel Forest up a notch on the list of things to see with the addition of a number of large-format arcade games located outside on the neonGARDEN side. Most games could be played using controllers or other devices and touch screens, providing the perfect entertainment while taking a break from the action.
Players might have noticed one game that stood apart from the rest and provided life-sized entertainment from four terminals surrounding a floor-to-ceiling screen: HOUSE HERO. Engineered by Project Wonder, HOUSE HERO pays homage to the origins of house music and presents a blend of the genre with cult classic 80's arcade games such as Space Invaders and Galaga. The player's avatar, inspired by none other than Frankie Knuckles himself, navigates around a warehouse, turning squares into dancing ravers. Project Wonder strives to bring interactive music installations to events, and created this game with all the right factors in mind.
INSOMNIAC BRAND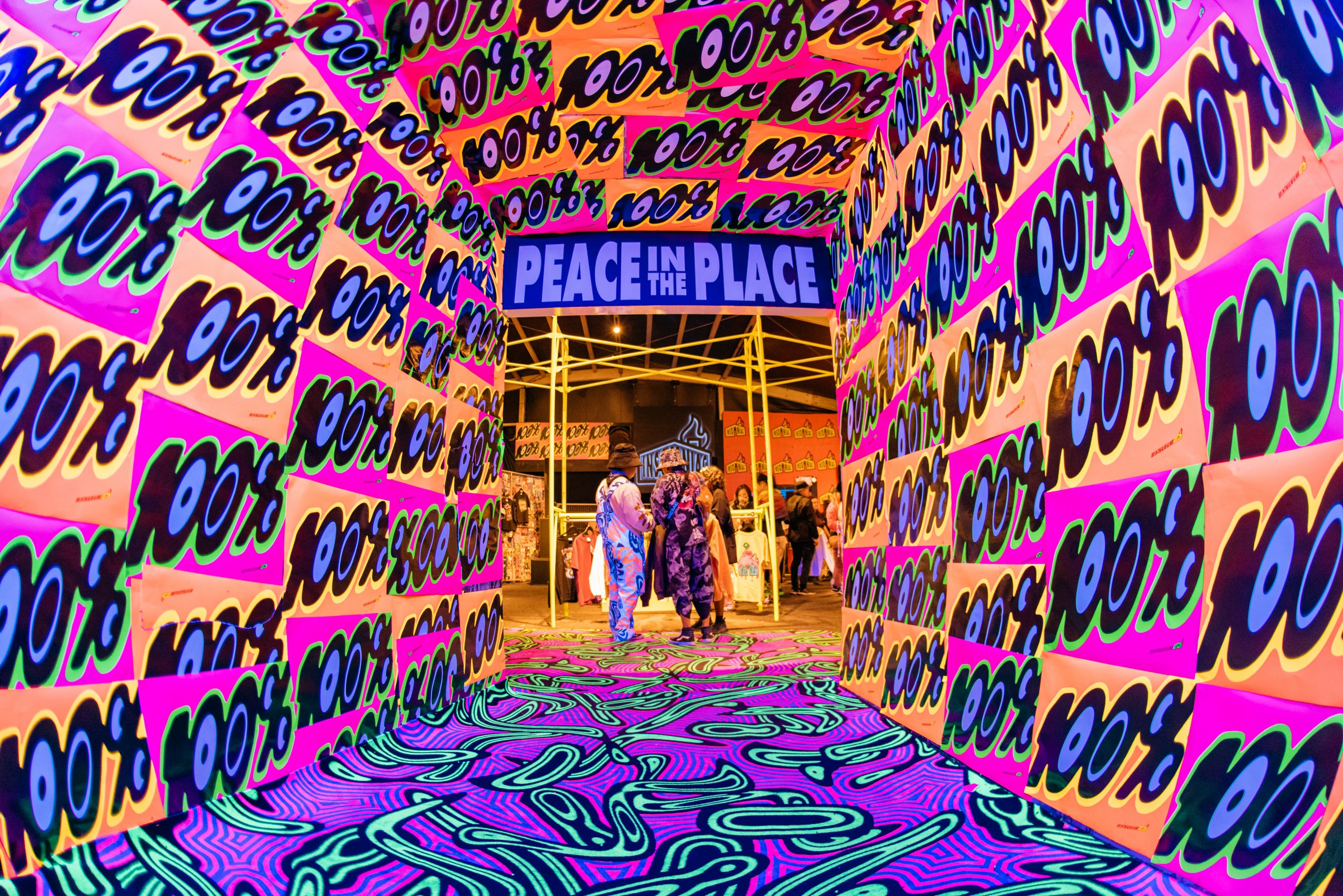 "PMA and dancing shoes are strongly recommended."
In case you missed it at EDC, Insomniac proudly announced the official launch of INSOMNIAC BRAND, an all-new line of apparel inspired by our history in electronic dance music and the foundational pillars of rave culture!
This new line of apparel features a variety of sleek new looks influenced by the intersection of dance music and traditional streetwear. We've brought you a unique line with all new patterns and styles, keeping in mind that the rave isn't just a party; it's a culture, a way of life, something we can never separate from once we are a part of it.
INSOMNIAC BRAND debuted at EDC 2022 in a first-of-its-kind popup installation. Fans were able to stop by the bounce house-style store to see all the fresh new digs, from shirts, pants, hats, and coats all the way to duffel bags and more. And even better: you can still shop INSOMNIAC BRAND online!
Yeah We Got NFTs
EDC Las Vegas 2022 NFT Art Gallery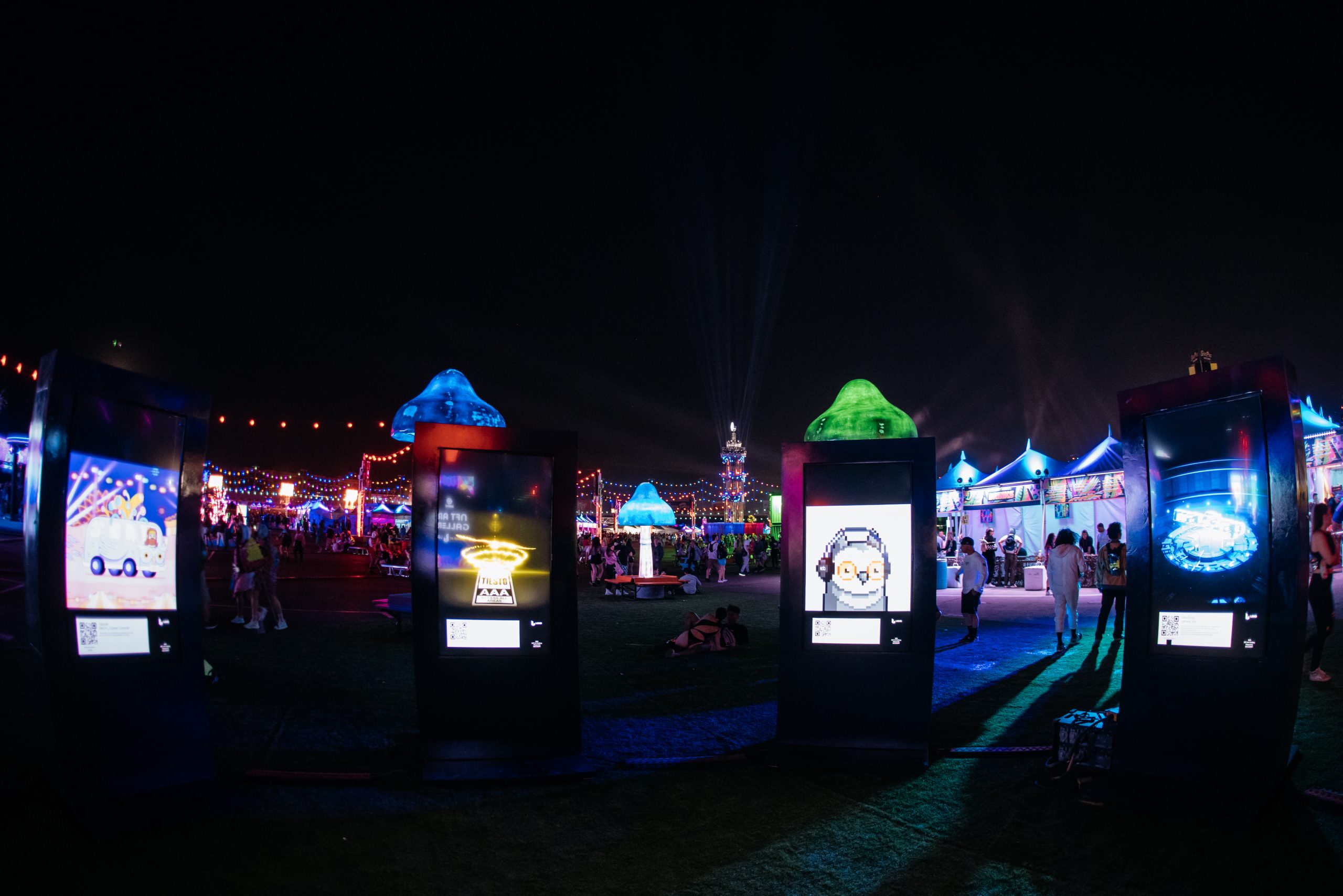 Insomniac has been busy over the past year working to bring something new to the crypto and NFT space. After the success of our first onsite NFT gallery last October, we decided to dive a little deeper and bring you the very first EDC Las Vegas 2022 NFT Art Gallery, curated by Insomniac and WAYF. The gallery featured NFTs co-created by some of your favorite electronic artists, as well as pieces from well-known NFT communities. These NFTs, minted on the Ethereum blockchain, are still available for a limited time only on the online marketplace powered by LGND. Check them out here!
It Came From Outer Space
In our bid to continue breaking the boundaries between art and technology, Insomniac and ZASH teamed up to deliver the first-ever satellite NFT drop, which debuted exclusively at EDC Las Vegas 2022. In a groundbreaking partnership between Insomniac and ZASH, Canadian electronic artist Grimes released an NFT using never before seen satellite technology, making this the first ever NFT to be delivered to the holder's wallet from space. Yep, you heard that right. This NFT travelled all the way to EDC from a satellite in outer space. For a very limited time onsite at EDC, Headliners were able to claim an exclusive mint of the NFT at the Lomotif activation on Electric Avenue.
In the same vein as Grimes' space NFT, ZASH also partnered with Snoop Dogg at EDC to give away the NFT Bored Ape #2102, which is valued at around $270,000, and had also been beamed up to space using the same satellite technology outlined above. The activation included a drone display in the shape of the Bored Ape silhouette, and appeared over cosmicMEADOW as the D.O. Double G himself came onstage during Jauz's set to promote the giveaway.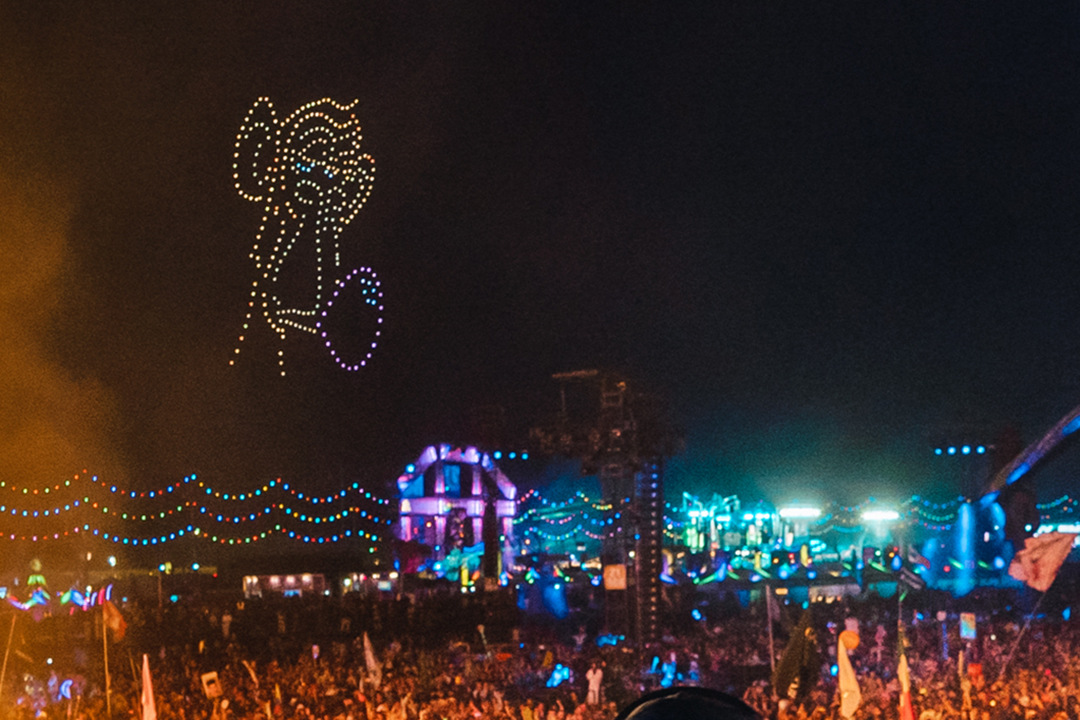 Allegiant Rave Hangar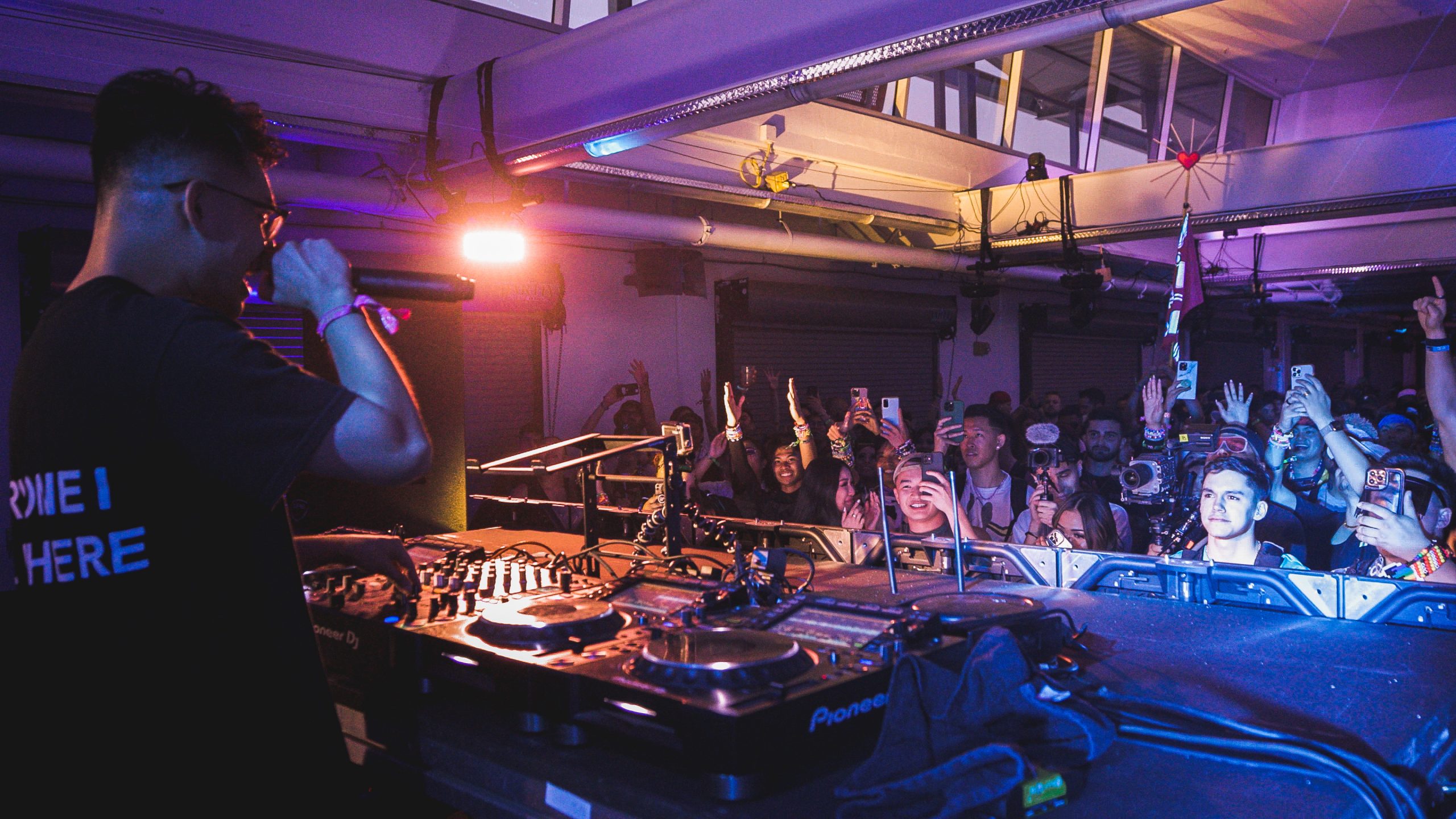 This year at EDC our friends at Allegiant brought you a brand new experience with the Allegiant Rave Hangar: an intimate, restricted capacity venue located in Carnival Square. Over the course of the weekend, we welcomed artists such as Mija, CID, Chapter & Verse, and Martin Ikin to this secret rave right in the heart of EDC.
Thank You for Joining us for Another Successful EDC Las Vegas!
Though our time together under the Electric Sky may have come to an end for this year, fret not! This year was our biggest and best edition of EDC Las Vegas, and we are looking forward to coming together again next year and pushing the boundaries even further. So round up your crew for 2023, and we'll see you next year to celebrate 27 years of EDC and the 30th Anniversary of Insomniac Events!
Follow EDC Las Vegas on Facebook | Twitter | Instagram
---
Share
---
Tags
---
You might also like